How It Works
It begins with air, not petroleum.
Traditional carbon comes from petroleum extracted from below the earth's surface. But there is a great untapped carbon ocean—atmospheric CO2—just waiting for us. Trees and plants capture CO2 through photosynthesis and package it up as cellulose. It's the original carbon-capture technology.

Any cellulose will do.
Woody biomass is Origin's feedstock. Our focus is sustainably harvested wood, but agricultural waste, wood waste, and even old cardboard may be used. Since non-food ("gen-2") plant-based feedstocks don't compete with food production, it's a triple-win for companies, people, and the environment.

Core chemistry.
The Origin platform converts C-6 cellulose into four isolated building-block chemicals, in one chemo-catalytic step with almost zero carbon loss. Our catalyst is 100% recovered and we don't rely on expensive sugars or fermentation. Because our process sequesters carbon, we're making materials that aren't just sustainable—they're restorative.

Four building blocks.
The majority of our output is the versatile furan CMF (chloromethyl furfural), plus HTC (hydrothermal carbon), an equally versatile resin. We create levulinic acid and furfural, too. All carbon-negative.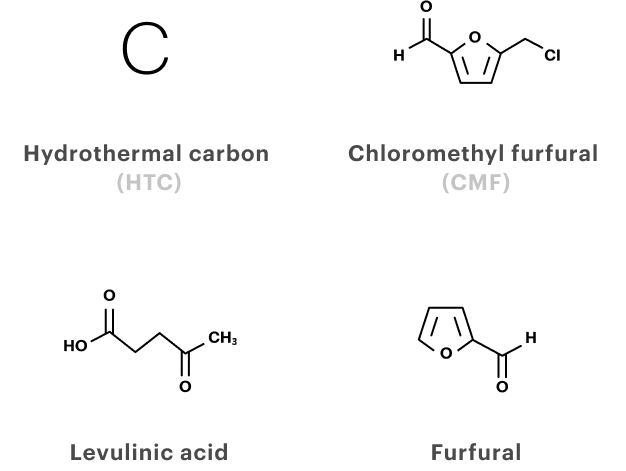 Markets.
Our customers, including Nestlé Waters, Danone, and PepsiCo, have agreed to purchase recyclable, 100% plant-based PET, made possible by converting Origin CMF into para-xylene. HTC is being developed for applications in several markets including tire filler, carbon black, agriculture, and activated carbon. And we're just getting started.